Fun on the Coast!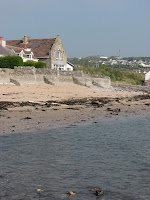 After a superb Easter our hopes were high for a great May Bank Holiday. But I guess it was too much to hope that two Bank Holidays in a row should be dry and sunny. Saying that, all was not lost: only the Sunday afternoon was wet, and those of us who stayed on for Monday afternoon were rewarded with bright sunshine and sparkling seas.
Port Eynon was a lovely little hostel, positioned right on the beach, on the Gower peninsula near Swansea. It had been the lifeboat house and there was a huge picture window where the doors of the boathouse would have been, giving a panoramic view across the bay.
By contrast, Manorbier hostel could never be described as quaint. Built by the MOD to a futuristic design, it would look more at home on the set of a sci-fi flick than on a remote part of the Pembrokeshire coast. Still you couldn't fault the location – just a stones throw from spectacular cliff scenery.
Ali
---
Almost the Best Walk Ever
Following a rather grim weather forecast, there was a rather slim gathering for the Gt Braxted Sunday walk. Only five of us braved the elements, meeting outside the Bull in Gt Totham.
The walk started with a brisk walk in almost sunshine to the Wildlife Trust wood at Shut Heath. A lovely little wood full of chirping birds, butterflies and wildflowers… and the withered remains of what had obviously been a spectacular display of bluebells. Too bad.
The walk continued, taking in quiet country roads, green lanes and leafy footpaths… all under an increasingly stormy sky.
We grabbed a quick bite of lunch in the shelter of a little oak tree and only just made it to the pub before the odd spot of rain settled into a steady drizzle.
Fortified with some ale, we ventured out again to finish the second half of the walk. There were some navigational difficulties as we tried to chart our way across an un-waymarked golf course, aided by gesticulating golfers (at least I think that was what they were waving about). Eventually we made it back to the cars, a little soggy but invigorated. It was a great little walk, one to remember for a sunnier day and a year when the bluebells are on time.
---
A Walk through Chelmsford's History
Although we've done historical walks around Chelmsford before, there are always more things to find that we hadn't noticed before. This time, amongst other things, we discovered the triangular gravestone of three women who died in the "deplorable fire" of 1808, the location of the Roman gatehouse, the home of the man who designed Chelmsford's sewers, the site where a preacher from Billericay was burnt at the stake, Chelmsford's first power station, and a statue of Graham Gooch. That's 2000 years of history in 2 miles. And there's lots more we didn't have time for (or couldn't see when it got dark!)
---
John's Jordan
Thanks to John for giving us a fascinating talk and slide show about Jordan, covering everything from the founding of Islam to King Abdullah's appearance in "Star Trek".
Although billed as "Jordan & Syria", John decided there was plenty to say just about Jordan, so we'll hear about his travels in Syria another time.
---
Fun with Maths
Those of us who remember maths lessons dominated by blackboards covered in indecipherable chalk were amazed at how things have changed – Cressida's Wednesday evening maths lesson for us, with the aid of laptop and projector, had us racing horses, crashing cars and playing darts – all colourful and exciting stuff, which exercised our brains as well!
---
600 Million Years
and a Long Weekend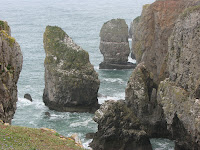 Once upon a time there were some rocks bobbing about on the earth's mantle around about where Peru is today. Then one day they decided they wanted to travel and they wandered down towards the South Pole before changing their minds and turning north. It was a hard journey and they were much worn by the waves, but their troubles were far from over.
About 600 million years ago the landscape erupted and Pembrokeshire was covered in thick layers of lava and ash with molten magma pushing up within it. The crust experienced vicious bending and twisting as mountains were created. Over the next couple of hundred million years the land was successively flooded and raised, flooded and raised; accumulating all sorts of nice fossils, sandstones and limestones, and the crumpled bedding planes of rock we are familiar with today.
Then, about 60 million years ago  Britain and America grew tired of each other and started to drift apart. The rate of drift has varied over the years and is currently about the same rate as fingernails grow, but it has accumulated to a massive three and a half thousand kilometres. The creation of the Atlantic had another affect too: pushing great blocks of the west coast upwards and ultimately creating the craggy cliff scenery that Pembrokeshire is justly famous for.
But it wasn't over yet, about 2 million years ago it got a lot colder and successive ice sheets flowed in from the Irish Sea, scraping off the soils and surface vegetation. The bits of landscape not scoured by ice were turned into arctic tundra. During this time the sea level was some 40metres lower than it is today and you could have walked across the Bristol Channel (though you'd have needed a jacket: it was a bit chilly).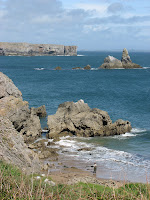 Then 18,500 years ago the ice melted. The melt water scoured deeply into the old river channels and sea levels rose, drowning wooded coastal plains. Relieved of the crushing weight of ice the land bobbed up again, creating raised beaches such as those at Poppit Sands.
Gradually the land recovered and over millennia soils re-formed and were colonized with grass and pretty wild flowers. The coast continued to be bashed by the waves, forming inlets, crevices, arches and blowholes. In fact the coast became so spectacular that in 1952 it was made into a National Park, in fact our only National Park that's predominately coastal. The National Park Authority then worked hard for the next 55 years keeping Pembrokeshire gorgeous, specifically so we could go and spend the May Bank Holiday admiring it. Would have been nice if they could have arranged for the weather to be just a little bit less grey and drizzly on the Sunday, but on the whole the 600 million years of preparation for our visit was well spent. The cakes were nice too.
Ali